As we're based in Jimboomba, we can (and do) provide water tank cleaning for many other towns including Beaudesert, Mt. Tamborine, Rathdowney, Canungra and Boonah.
Call direct on 0408 511 759 or use this form to confirm we service your area.
Whilst all State Health Departments recommend cleaning water tanks every 2-3 years, we do suggest yearly for best results. No more bad smells or nasty tasting water.
Our service areas include:
Beaudesert
Boonah
Canungra
Flagstone
Greenbank
Jimboomba
Logan Village
Mt. Tamborine
New Beith
Park Ridge
North Maclean
South Maclean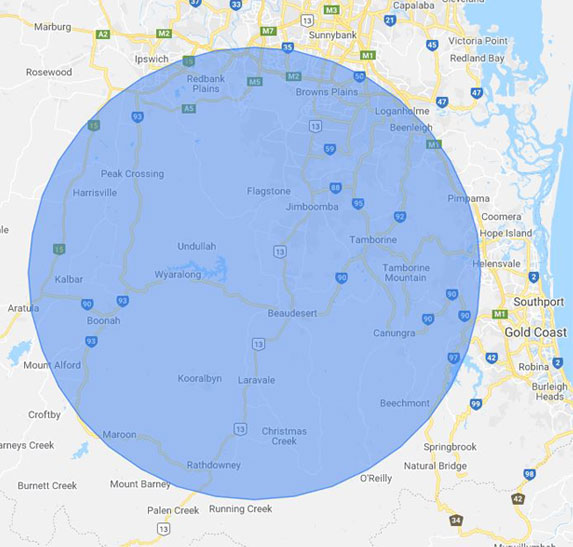 Important update December 8, 2021
The CSIRO is urging Australian's to clean their water tanks after experts declared tanks a strong health risk due to an increase in mosquito numbers due to recent heavy rains and floods.
This Channel 9 News article quoted "Invasive mosquito species thrive in water tanks," Dr Brendan Trewin, from CSIRO.
"If you have a water tank it's important to make sure it doesn't turn into an accidental breeding ground for mozzies," Dr Trewin said.
Beaudesert and other water tank cleaning service areas
See the map above for the areas we service for clean water tanks. To confirm your booking, simple call us direct on 0408 511 759 or use the form here.
Beaudesert is a thriving rural town in the Scenic Rim region, Queensland.
With a population of almost 6,500, Beaudesert has an average rainfall of 916 mm per year. Water tanks are a very common part of town homes and we're often in Beaudesert, cleaning tanks.
If you're after a water tank cleaning team in Beaudesert, we'd be delighted if you gave us a try.